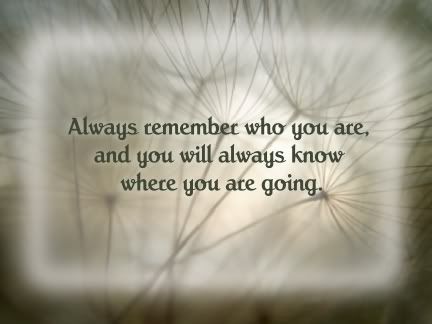 Right out of seminary, I interviewed for a job in California (which I happened to get - shout out to my LBUMC peeps!). The position was Director of Youth and Family Ministries. One of the initial phone interviews was with a child/teen psychologist, who asked me what my primary purpose in ministry was. Keep in mind I was newly graduated, full of theology and polity and all kinds of "right answers." But before I could use any of my school learning, my heart made me blurt out, "To help the kids know who they are."
In so many ways my life has been about discovering who I am. I've preached that the actual definition of sin is not being true to yourself. I've worked very hard to be someone who is honest, caring, compassionate, endlessly forgiving, someone who brings anxiety levels down and seeks to find the best in others. I've spent a lot of my life chasing perfection - not Wesley's kind, but actual physical, mental, social, academic perfection. (You'd think by now I'd have learned.)
For some reason, when I went through Facebook this evening, I was overcome with waves of disappointment - in myself. I made a couple of mistakes this past week, and I'm still not at a point that I can be okay with making mistakes. Several someones pointed out my errors, called me on my posturing. I guess they meant well. I should try to see where they're coming from.
And yet, all I want to do is to scream, "Get off my back!" The pressure is intense - and almost fully self-imposed, I know this. At the end of the day, I still want someone to tell me that I am loved - just for who I am - strengths and weaknesses and silliness even when it goes a little too far. In the Christian church we call that "grace."
I don't buy the idea that if you know who you are you'll know where you're going. I feel more like Hansel and Gretel, who must have despaired when the bread crumbs ran out and they were left alone in the forest, far from the home they knew. Don't get me wrong. I'm a big girl. I can find my own way. Just don't be surprised if I look down, now and again, hoping to catch a crumb, any kind of trace, the trail that leads me forward - and back to myself.