About Reading Through Lent
Note: Theodore Seuss Geisel was raised Lutheran.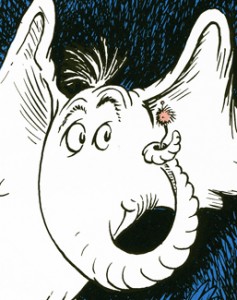 W
e are here, we are here, we are here!
Horton Hears a Who
F
rom there to here, and here to there, funny things are everywhere.
One Fish, Two Fish, Red Fish, Blue Fish
U
nless someone like you cares a whole awful lot, nothing is going to get better. It's not.
The Lorax
The more that you read,
The more things you will know.
The more that you learn,
The more places you'll go.
I Can Read With My Eyes Shut!
Sometimes the questions are complicated and the answers are simple.
Dr. Seuss
P
eople were bringing little children to him in order that he might touch them; and the disciples spoke sternly to them.
14
But when Jesus saw this, he was indignant and said to them, 'Let the little children come to me; do not stop them; for it is to such as these that the kingdom of God belongs.
15
Truly I tell you, whoever does not receive the kingdom of God as a little child will never enter it.'
16
And he took them up in his arms, laid his hands on them, and blessed them.
Mark 10:13-16